C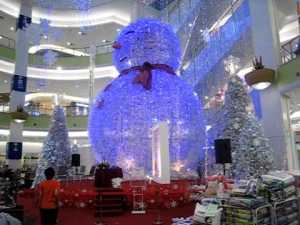 hristmas in Melaka is, in a word….disorienting.
I look around a town full of eves dripping with Christmas lights, even though I know 9 of 10 belong to homes that are Muslim, Hindu or Taoist. The stores have Santas, ranging from full red-suit-beared-creepy-lap-guy to manniquin-with-a-ratty-beard-that-makes-it-look-like-a-homeless-dude. Some of my training buddies at the dojo are heading home for the holiday break. Bev and the boys have the month off. "Last Christmas I Gave You My Heart" plays incessantly at the mall.
There's a whole lot of Christmas going on.
And yet…
It's in the 70s with mostly sunny conditions. The days aren't noticeably shorter than in the summer. Some overcast and rain each day, but I've not felt the passing of the seasons since we arrived in late August. Back home, Bev would leave for and return from work in the dark. We would have seen the first rains and October wind storms, and be crossing our fingers for a snowpocalypse to start school a week late. Instead, it's just weather business as weather usual. Makes it hard to internalize the changing of the years.
For our family, there's another disorienting bit. Bev and I come from close, loving families who live nearby, and have surrounded ourselves with a third family of adults we love, who've had kids we love. Our holidays are spent in the context of interacting with them. We never got around to creating traditions for just the four of us…and now we are. This isn't an objectively good thing, or an objectively bad thing. But it's a thing, and it adds to the sense of disorientation we're already feeling.
Even the familiar touches, like the creepy Santa mannequins and the carolers and the Christmas trees are different enough that they underscore the cognitive dissonance rather than alleviate it.
It's a bit like the comfort food in Malaysia. They have all the classics here: popcorn, potato chips, McDonalds, canned soup. (Don't kid yourself: McDonalds is comfort food for expats. Anybody who says different is lying). Thing is, they're all just a little bit tweaked by cultural and quality differences. The potato chips taste like something made by somebody who had read about them in a book sometime, but never actually eaten a Ruffle or Pringle. This makes the comfort food anything but comforting.
Just like shopping. I'm used to insane shopping for a day or so in the US, and was naively looking forward to a less insane shopping season in a nation that's not largely Christian. Turns out that the Christmas season is when one of the welfare engines of Malaysia disburses large amounts of money, and the department stores throw enormous sales events to pull in as much of that money as possible. Where in the states we have Black Friday, here we have a four-day Malaysian Melee that's like a three-way between Black Friday, a Beatles concert and Times Square on New Years. With Oprah hollering "You get a marital aid! And you get a marital aid…" from the sidelines.
It's the same as in the states, only amplified and distorted. If I were to write a song about it, I'd have to invent a new effects pedal to capture the sound.
Another example is our Christmas tree. They don't have hem there, since we're a few thousand miles from any kind of pine. Instead, we made one on butcher paper with outlines of our hands, and plastered it with photos of our furthest and dearest. It was a fun family project, one I'm tempted to continue upon our return, but again…different and disorienting.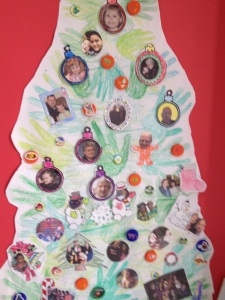 Don't get me wrong for even a second. I like being disoriented from time to time. It makes this whole thing feel more like an adventure. I didn't come all this way to sit by a hearth and watch A Christmas Story and Die Hard back to back while drinking hot toddies and lying to my kids about a fat man burgling the house via our chimney. I came all this way for experiences like last night:
Eleven o'clock. The last of the prayers are playing from the nearby mosque, forming a background for the block party on the corner where 50 Malaysians are transitioning from "Silent Night" to "I Saw Mommy Kissing Santa Claus." One member of the party is in the middle of the street with a cigarette lighter, which he uses to set off a holiday firework that launches a pyrotechnic to eye level with us on the 10th floor. Then another, and another. The sparks are hitting our window and the boom temporarily drowns out the caroling down below. When the explosions pause, they've moved on to "The Holly and the Ivy."
Merry Christmas.