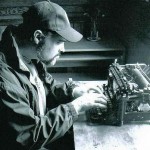 This past month I've made contact with a few writers/prospective writers. They're way smarter than me (not a difficult task) but still stuck in the "wish I could write for a living" stage. From my experiences at conferences, they're not alone.
The biggest, hardest question most ask is about how to get started. It's easy for me to make a living at this point — I have a bank of clients, a good reputation and a solid portfolio. If you're just getting started, maybe these steps will help.
1. Set Up a Blog
Go to a hosting service (I like Dreamhost.com) and get a URL, then install WordPress. Use the blog as a portfolio and write at least one good article a week. For bonus points, do some keyword research and optimize your work for search engines.
2. Get on Google+
Set up your account and use it the same way you do Facebook. You won't have as many followers, but the stuff you do there weighs in towards your Google page rank as an author. Be sure to add your blog to the "Contributor" section of your profile.
3. Read At Least 6 Blogs on Topics That Fascinate You
Gaming. Pets. Finance. Kama Sutra-related urban myths. Whatever you're into, there's a blog or three. Subscribe and read until you have an idea of the tone and style for each. You can use a variety of RSS and blog aggregators to make this easier.
4. Offer to Write Guest Posts on All Those Blogs
This might be free, or it might pay a nominal fee. Either way, it's publication. Lots of other sites will want to see you "printed" somewhere other than your blog…it's proof that somebody besides your mother reads your stuff.
5. Pitch Specialty Magazines
Every hobby, metropolitan area and interest has at least one magazine. Pitch an article or three to the ones you're reading anyway. These are paying markets, and usually have a pretty low bar for entry.
6. Search Job Listings (Like Craigslist)
These won't be the highest paying gigs, but there are a lot of them every day. Last year, I found out that if I applied for 5 a day without fail, I'd be turning away work within three months.
7. Blog for Local Businesses
Talk to businesses you frequent, local shops — not national chains. Ask what they'd pay for you to blog a few posts for them. At the local level, $25 for a 400-word entry isn't unreasonable. And yes, this includes whoever you work for right now.
8. Start Scaling Up
Once you've written a few free guest posts, hit the blogs that pay their guest posters. Once you've seen your name on a few specialty magazines, query to some national publications. Once you've finished a handful of jobs of Craigslist, get yourself on some of the job boards for professional journalists.
There's a lot more, but this plan can get you writing for money within a month of starting. How long it will take for you to be able to write for all your money will depend on you.
Any other pros out there with some advice on how to get started? Comment below.