I want to invite you all to a new experiment I'm trying out in learning how to write for a living (or write for living better than we all are right now). I'm calling it Write Like Hell.
Write Like Hell is an aggressive, one-year course of accountability and community designed to take your writing life to its next level faster than you dreamed you could. 
The epic journey, like all journeys, begins with taking one step…this time into the gates of hell.
Before I get into the details, though, there's one thing I want to make clear.
You don't actually need me to perform the Write Like Hell Challenge. The core concept is simple. It consists of just two steps:
Step One: Make several promises to yourself, promises which will move you inexorably from the writer you are today toward the writer you want to be.
Step Two: Keep those promises.
That's all the Write Like Hell Challenge is. It's powerful, and I think it's important. I think it's so important that you can email me to get the syllabus for free. You can do it on your own, because I'd rather you do it without paying me anything than you not do it at all.
That said, you're more likely to succeed if you do it with me. I say that because Write Like Hell gives you:
A structured, guided framework for setting and meeting personal goals

Accountability to help you keep promises to yourself

Expert instruction and coaching on all aspects of freelance and professional writing

A community to support your efforts
It's one Hell of a year (see what I did there? I kill me.) But you'll come out of it knowing you're capable of far more than you imagine, and with the tools to make it happen.
Fair warning: It ain't easy. And it ain't cheap. It's up to you to decide if it's worth it.
The Details
Here's how Write Like Hell works. Don't say I didn't warn you.
The Requirements
The core of Write Like Hell is built around what you will do. Over the course of the year, you will set and work tirelessly toward a set of six manageable but aggressive goals:
One Writing Goal

: Duh. A

huge

part of this year will be to write more, and write better. This focuses around completing one or more writing tasks over the course of the year.

One Career Goal

: You can't be a successful professional writer without behaving like a professional. These goals will surround building your professional profile and network, based on the kind of writing you want to do.

One Relationship Goal

: The people around you are what makes life worth living. You will make a point all year of nurturing your relationship with the people most important to you.

One Health Goal

: Being healthier will make you a better writer. You will have more energy, a sharper mind, and more productivity in your writing. This isn't some kind of crazy boot camp, but the program includes adding one thing to make you healthier over the year.

One Personal Growth Goal

: The day you stop learning is the day you stop living. This is especially true for writers. It doesn't matter how you grow, as long as you keep growing. This year we'll make sure you keep pushing your personal envelope.

Bonus Round

: Everybody has that one thing. Maybe it's a habit you want to build, or quit. Maybe it's a relationship that needs more attention, or a life situation that makes you unhappy. Doesn't matter.

Write Like Hell

includes choosing one of your "one things" and making it right.
Each month will also include a personal challenge: an experience to broaden your experience, which will in turn broaden your writing.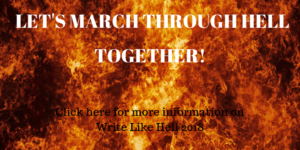 The Schedule
Of course none of the above happens in a vacuum. We'll adhere to a strong 12-month schedule built to help you realize your potential as a writer and creative professional.
October – Meet & greet with fellow team members. Orientation. Individual weekly sessions to nail down goals and set up a plan for achieving them.
November – First month of progress. Recalibration meetings as month comes to an end.
December– First benchmark month. Light duty month, also. Never promise you'll accomplish a lot during the holidays.
January – Resolution month. First month of PUSH WEEK.
February – Relationships focus. Virtual convention.
March – Second benchmark month. Coaching and push to reach interim goals.
April – Spring cleaning month. Second month of PUSH WEEK.
May – Light duty month. Get ready for summer season. Pitch party.
June – Third benchmark month. Coaching and push to reach interim goals.
July – Summer . Third month of PUSH WEEK.
August – Penultimate month. Self-assessment and sprint to the finish.
September – Final push and graduation.
Like I said. This won't be easy. Or cheap. But I believe it will be worth it. To some writers. I don't know if you're one of those writers, but if you are, keep reading.
The Curriculum
I'll be on available throughout the process for coaching, advice, and general encouragement. So will every member of the team. "But that's not all!" Your tuition includes access to a stack of resources to further help make sure you succeed.
Pdf files of my Year of Writing planner

A dedicated, private Facebook Group where we'll meet and chat daily.

Weekly check-in meetings to assess progress and assign next steps.

Monthly educational sessions, where industry professionals answer your questions.

Monthly subscription-box style e-book drops with even more information for you to digest.

Quarterly readings by member authors, which we help you arrange and promote.
We might add a few extras along the way, depending on who signs up. For example, folks who live near each other might do some physical meet-ups. And I have a couple of unconfirmed celebrities who might be on the line to teach a class. More on that as things develop.
Why Is This Happening?
Let's start with the long game.
Within five years, I want to create an organization that serves writers and other freelance creatives. This organization celebrates and leverages the Twin Super Powers of freelance creatives:
Super Power #1: Time and Location Independence. You can do your work from anywhere in the world, at the times that best suit you. This means I get to coach my son's chess team because I'm not at work when it's in session. It also means that, if a library in Missouri got flooded out, I could go help without asking a boss for permission.
Super Power #2: Fan Base. Whether they're clients, coaching customers, or book-buying fans, professional creatives have a group of fans willing to support their efforts. It's how I make a consistent living. It also means that, if I wanted to go help that library, I could talk 50 people into donating $20 each toward the cause.
This organization will first and foremost help freelance creatives succeed so they can enjoy those superpowers every day. Secondly, it will exist to annually leverage those superpowers via a "service convention" where we get together to Save the Freakin' World (™) and also learn about how to further our careers.
When that library gets flooded, I want to show up with 20 authors and $20,000 to spend a week putting it right. Reliably. Year after year.
Creating that starts with Write Like Hell, a year where I help build 24 of the kinds of authors who might participate in making that goal a reality. If you're just in it for the year, your tuition will help me focus my efforts on building it. If you stick around, you'll be in on the ground floor of something that can make the world a better place.
A Bit of Story
I stole this idea wholesale from Tom Callos's Ultimate Black Belt Test, which leveraged the Twin Superpowers of Martial Arts School Owners (Immense Energy and Student Body) toward much the same ends.
I participated in "UBBT" three times. It was incredibly aggressive. A portion of the requirements included:
50,000 pushups and situps

Running 1,000 miles

Completing 150 hours of cross-training

Apologizing to somebody I had wronged

Achieving 12 "personal victories"
Here's what I learned most from UBBT. It created a paradigm shift in what I believed was a reasonable amount of effort to put into my dreams, and of what I believed was possible to achieve. My experience there is why I was able to go full-time as a writer less than a year after deciding to try it.
I want to give that experience to you. Now, UBBT was a professional and commercial education program. It cost me $400 a month. Write Like Hell won't be cheap. But it won't be that expensive.
Similarly, it demanded nearly 15 hours a week of effort, but much of that effort synched seamlessly with the life of a martial arts school owner. I realize most people in Write Like Hell will have jobs and lives. It will require time and commitment, but not that much.
Why You Should Work With Me
"Jason Brick has authored, co-authored, ghostwritten, or edited 44 published books, and over 4,000 online and print articles. He speaks internationally to businesses about writing, and to writers about business."
Or at least that's what my bio tells me.
More importantly, my background is what makes me good for this. Before hanging out my shingle as a writer, I taught martial arts for over a decade. Inspiring, coaching, and providing accountability for folks is one of my best things, and I want you to help me start using it to make the world more awesome.
How I Suck
Over the past three years, I have tried various iterations of this with middling success, for free. If you've tried it, you'll recognize the pattern.
We'd start strong, but then I wouldn't be as present as I had promised or wished. It wasn't because I didn't want to. I just needed to earn a living first. That sometimes meant my absence for days at a time, and less engagement with each participant than I liked.
Which is why I'm charging this time around. The income I get from this will mean I can devote 20 hours a week to helping you get where you want to go. It will be my job, and I always do my job very, very well.
TL/DR: The Bottom Line
Here's what you'll get:
A year of coaching, accountability, community, and guidance to change your writing life forever.

Access to and contact with industry professionals who can lift you up.

A fundamental shift in what you believe yourself to be capable of.

My unflinching support and undying gratitude.
Here's what it will cost;
5-10 hours of your life once a week for one year.

Total commitment to improving your writing life.

$125/month or $1,200 as a lump sum.
Interested? Email me at brickcommajason@gmail.com or call me at 503-334-9058. Let's find out who we can be together.