Exciting news! My YA novel Wrestling Demons just got picked up by Not a Pipe Publishing. It's an epic tale of martial arts, Japanese mythology, and accidentally being seen in your underwear by the gal you have a crush on.
Baby Shoes was my editorial debut. 100 flash fiction stories by 100 authors, including myself. Plus a few heavy hitters like Joe Lansdale, Walter Williams, Linda Needham and Eddy Webb. It was a bit like herding ducks, but the end product I'm pretty darn proud of.
Goats who cuss! Rampant drug and alcohol abuse! Penis tattoos! Shoot outs! Hilarity on a gonzo scale, described as what would have happened if Tarantino had directed The Hangover. Episode One of the Farkas Foxtrots: Train Wreck.
Dark Tales from the Secret War asks what would happen if Cthulhu and his ilk were alive, well and known of during WWII. My story answers that question, as do over a dozen other creepy tales exploring the weird side of the years history turned upside down.
9 Habits of Highly Profitable Writing is my answer to every time somebody asks me how I make a full-time living doing what a lot of people wish they could. I've been told it applies equally well to other entrepreneurial creative ventures.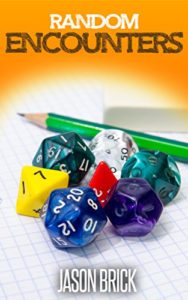 I'm a huge nerd. So huge I published this series of tabletop role-playing books called Random Encounters. At one point, all five of them were in the top ten on Amazon for their category. Which I'm a little bit proud of. Start with volume one and see what you think.

Interface 19.40 is a cyberpunk, time travel, WWII, cthulhu crossover game I was fortunate enough to write an adventure for. Seriously. Let me say that again. Cyberpunk. Time travel. WWII. Cthulhu. They even paid me.
Scars of the Third Crusade is an adventure I wrote for the Pathfinder game by Paizo Publishing. It asks what happens when a well-meaning inquisitor frames people for devil worship, and what adventurers should do about that. Got some good reviews when it was part of the Pathfinder Society organized play events.
Buy it here!