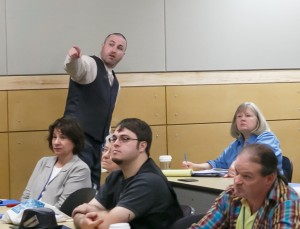 Before writing for a living, I spent a decade teaching martial arts. Turns out the combination of writing chops and instructor experience make me a pretty good speaker.
Since 2012, I've presented at dozens of venues in three different countries. Mostly I speak to businesses about writing, and to writers about business…but I do other talks too.
Keynotes
I've "led the charge" with dinner keynotes in the United States and (oddly) Malaysia. If you need somebody to help drive home the theme of your event, or to present compelling thoughts folks will bring home with them, I'm your huckleberry. A few of my more recent keynotes have included:
"8 Things to Do After This Conference"
"Social Media Marketing for Global Entrepreneurs"
"Cast a Wider Net: Making it Happen With Travel Writing"
Presentations
Whether your event has a schedule of classes to fill with vibrant speakers with experience to back up their story, or you have a facility in need of a regular teacher, I'll bring what you need to the table.
I'll come to your event with a custom-built presentation your people will remember, and be able to use immediately. Or I can bring one of my frequently requested talks like:
"Social Media Marketing for Writers"
"Building Your Writing Platform in 12 Months"
"Beating Procrastination in 10 Easy Steps"
"The Blog to Book Revolution for Small Business Owners Like You"
School Visits
One of my absolute favorite parts of running a martial arts academy was visiting elementary schools to teach children about safety, stopping bullies, discipline, and self-respect. I'm fortunate enough that my YA novel lets me come to middle schools and high schools to keep engaging with "kids these days" about those same themes as they appear in my book.
I'd love to come visit yours. While I'm there, I can also drop by your English classes and talk about being a professional writer, and how young lovers of the written word can make writing part of their adult lives.