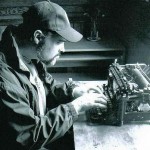 With apologies to both Steven Covey and Captain Tagon, I'll be doing a list of the behaviors that make for the best opportunities to succeed as a freelance writer.
Habit One: Professional Appearance
Yes, freelance writing often means telecommuting. Yes, that part of the job often finds me working in my jammies with a three-day stubble. Yes, this is one of the better parts of my job.
But.
You still have to maintain a professional appearance. The "face" you put forward to potential clients will determine whether or not they reach out and give you a chance to bid on what they want done.
Is your website professional, well-written and easy to read?
Do your social media pages include enough comments, likes and shares to demonstrate that you can compel readers into action?
Are the photos on your page high-quality, with appropriate accreditation?
Do you communicate using good grammar and professional protocols?
Is there at least one professional photo of you on your website and each social media page?
Can you provide references and testimonials?
If you have to answer "no" to any of those questions, then you have some targets for the next few weeks.
Physical appearance also matters whenever you're soliciting work face-to-face, or meeting with clients in person or over video chat. I posted not long ago about being solicited for work at the grocery store by an intelligent, skilled woman who hadn't dressed for the part.
Stay tuned for Habit Two: Professional Communication. Meanwhile, leave some comments about how having — or lacking — this habit has affected your business.
Photo Credit: Onomotomedia