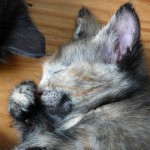 "If I had eight hours to chop down a tree, I'd spend six hours sharpening my ax."
— Abraham Lincoln
Stephen Covey later adapted that idea by adding a "sharpening the saw" task to every executive's daily things to do list. The idea is simple: without rest and preparation, you can't be effective and successful.
I learned this the hard way recently.
This past month has been phase one of a big remodeling project in my house. This means writing about twice as much as usual to afford the project. And spending a few hours a day tearing things apart with a sledgehammer, crowbar and my work-gloved hands.
After two weeks, I was already feeling pre-carpal in my forearms and elbows. And then I went to a capoeira workshop. Four days of this:

Alert observers will notice this activity gets hard on the wrists, forearms and elbows. And thus I've been pretty much unable to type for a few days. Light duty for the next few, then things should be back to normal.
The point here isn't making excuses for not posting in a almost a week. The point is I wasn't sharpening my saw. I wasn't resting. I wasn't planning my work or stockpiling work to post during an unforeseen gap in productivity.
I could have avoided this problem in a dozen ways. Since I make some of my living giving advice to freelancers and small business owners, I should have avoided it.
What things do all of you do to keep from burning out/overworking yourselves/getting carpal tunnel from too much of an obscure Brazilian martial art? I look forward to your comments.
Photo courtesy of Tim Vickers. Used with permission.