Click here for part five of the series.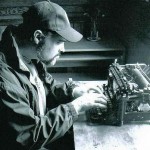 HABIT SIX: MARKET RESEARCH
Lawrence Block is an award-winning mystery writer with an immense body of work and enthusiastic following. For several years he wrote an advice column in Writers' Digest magazine. In one such column, he said that writers who don't read the magazines they want to write for won't get published — and they don't deserve to.
Editors I've spoken with say the same thing. You'd be amazed and appalled at how many people pitch a magazine without ever having read it, or even cruised the website. If you want to write for somebody, do your research. Find out the kind of writing they want, their editorial slant, the topics they're interested in.
The best freelancers take it several steps further. Many sites and magazines have editorial calendars that describe in broad strokes what topics they're looking for. Understanding the length of a publication's editorial cycle will help you time your publications.
If you're an expert, or doing business writing, win by combining your topic with timely angles based on the seasonal calendar, current events and popular trends.
All of this is part of market research. No business succeeds without understanding the market forces relevant to their industry. Your freelancing business won't either.
What are some of the market research techniques you use? Where do you think you could improve on this habit?
Photo courtesy of Onomotomedia.