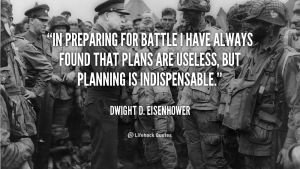 I've talked before (lots of times) about the importance of organization for writing, training and pretty much anything else you want to get done. You plan your work, try to work your plan, adjust your plan because it didn't work, then get your work done.
I struggle with this. I am not by nature an organized individual, and having two kids makes it hard. For 2016, I Kickstarted two tools to help me: a pair of calendar journals that claim they will help me organize and motivate myself. Each month this year, I will tell you what I've learned about them. The end goal is to buy for 2017 the one I liked best…or to hack together a personalized version that uses the best of both.
Here's What We've Got So Far

Spark Planner – Achieve All Your Goals in 2016 from Kate Matsudaira on Vimeo.
I got my planner in late December and LOVE one feature above all others:
The weeks are organized in daily columns, marching side-by-side across the two faced pages. 
I had one like that when I lived in Japan, and spent the 14 years between now and then finding an easily portable calendar like that here. Maybe I just didn't know where to look, but I'm loving it.
Beyond that, the calendar's "30 Day Challenge" feature is close to my heart. Each month, you dare yourself to do something to make it a habit. Folks who know me already are aware that I do this anyway…but finding a calendar with this incorporated is a big win for me.
I'll report on other features, pros and cons as I discover and test them. My 30 day challenge for January went well, and the system in the calendar for motivation actually worked.
Dream Big Life Planner
Dream Big Life Planner KICKSTARTER from Croix Sather on Vimeo.
This one looks hopeful, but I haven't received it yet. The producer keeps sending kind announcements about why they're late…but it doesn't speak well of an organization assistant to be this disorganized.
Still, once I get it I will report fairly moving forward.