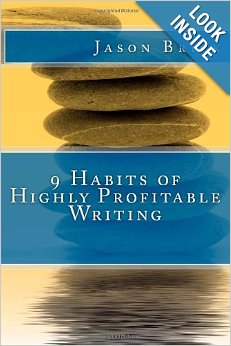 In my book The 9 Habits of Highly Profitable Writing, one of the habits I list is "Write Lots."
When I first thought about writing professionally, I had the problem of underestimating the scale of available work. Now that I'm in my 6th year of writing full time, I have a better grasp on just how much work — and how many different kinds of work — is available for writers willing to chase it.
And you have to be willing to chase it. It's not like it will be coming to you.
(Well, after a while it will start coming your way…but only after several years of doing the hunting yourself)
In the past six months, I've gotten paid to do the following kinds of writing:
Ghostwriting on religion
Web content
Print magazine articles
Travel & food writing
Advertising copy
Martial arts instructions
Social media profiles
E-books on writing
Ghostwriting on international business
Presentation scripts
Game rules
White papers
Young adult fiction
In the same time, people I know in the industry have been paid to do the following other kinds of writing:
Catalog text
Calendar color commentary
Travel guides
Movie and TV scripts
Research summaries
Grant proposals
Business plans
Nonfiction books
Fiction books
Short stories
Brochure copy
Flyers for businesses
Corporate employee manuals
Social media engagement
The bottom line is this. It doesn't matter what you want to write. You can find somebody willing to pay you to write it.
Go find that somebody.
Get paid.