The "Feedback Sandwich" is a management tool that got popular in the 90s and you still see it around, used by management consultants who are at the trailing edge of their profession and by well-meaning but deluded communication people like marriage counselors.
If you haven't heard of it, you've probably experienced it. When you need to tell somebody about some room for improvement, you're supposed to stick it between two compliments. For example, if you have a buddy who keeps showing up late for stuff, you could say:
Comment One: Man, I really like hanging out with you because you say such funny and wise stuff.
Comment Two: I really wish you'd show up on time, though. It's kind of inconsiderate when you leave me hanging.
Comment Three: Because I just know when you show up I'm gonna have a really great time.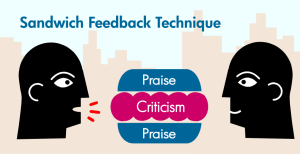 See? You sandwich the less fun feedback between two pieces of fun feedback. That's where it gets its name. It's a fairly simple way to make a bitter pill easier to swallow.
And it Makes You Deserve a Punch in the Neck
Yes, I can see how moderately intelligent, well-meaning people could use a feedback sandwich. That still makes them fully deserving of a roundhouse punch square in the damn neck. Here's why:
It's based on the condescending assumption that the person you're talking to can't take his or her medicine straight. We're grown-ass adults here. If we can't hear and act on suggestions to become more awesome, what is the point?
It wastes my time. By adding the other two comments, you triple how long it takes to have this conversation. Get to the point and let me commence to acting on your suggestions.
The compliments are (usually) insincere. You're only mentioning them because you're doing the sandwich. We know it. You know it. Tell me I'm awesome because I'm awesome. Not because you identified a way in which I am not awesome.
Even when they are sincere, you're still doing the sandwich. So they seem insincere. There aren't a lot of better ways to make somebody doubt how much you value the good work they do.
We know what you're doing. All of us. Every time. You know how you feel when a sales guy tries some obvious old sales trick on you and you catch him at it? You know how that ruins the trick and usually blows the sale? That's exactly how we feel when you do the sandwich.
Alternative: Atkins Feedback
The Atkins Diet helped a metric shitton (approximately 1.1 imperial buttloads) of people lose weight by basically letting men eat the way we would anyway if our wives weren't watching. Meat and cheese all day long, all day strong. Hamburger hold the buns, please! Sandwich, hold the bread!
You see where this is going. Get lean and mean and peel the bread away from your weak sister feedback sandwich. This means doing one of two things, depending on where you are in the feedback giving food chain.
If You Are Giving Feedback have the respect to assume the person you're talking to can (a) take it like an adult and (b) see through transparent mind games. Stand and deliver, then let the subject commence to fixing what you needed to talk about.
If You Are Receiving Feedback respect yourself enough to admit that you have flaws. We all have flaws. And remember that we can't ruthlessly eradicate those flaws if the people in our lives don't call us on our bullshit. Take the feedback as the constructive criticism it's meant as and don't go all Sylvia Plaith on us.
Easy enough? Be honest with people and yourself. Use that honesty to become the better person you want to be, rather than merely the person you are.
Readers, share your most hilarious experience with the feedback sandwich. Anybody who can honestly report neck punching gets a free copy of one of my books.