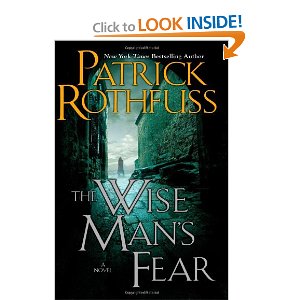 I read and reviewed The Name of the Wind last year. Short version: I loved it. Best fantasy fiction I've read in the past decade — and I reread Lord of the Rings during that period.
Wise Man's Fear is the sequel, an even longer book with a word count higher than the first three Harry Potter novels combined. It's even better than the first.
This is the second book of the Kingkiller Trilogy, and like most such novels it continues the longer story rather than telling a tale of its own. However, it's more than just a "bridge novel." Plot development is minimal, but Kvothe develops as a character and we learn more about the world.
One specific element I like is Rothfuss' exploration of language. Dialects, illiteracy and song are all part of the landscape in this story — even a dual-level language where people communicate simultaneously with word and sign.
As before, the novel makes good use of action — but not just combat. He can depict playing a song in concert, or verbal sparring, or taking an exam as gripping, important and instense.
Seriously. Read this. Wise Man's Fear is the best book I've read this year. Only fiction I've read this year, but the competition will have its work cut out for the next 11 months.
Thanks for listening.