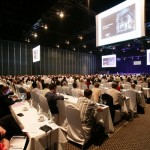 Story time…
Earlier, I promised some tips about making the most out of the time you spend at writing conferences. To that end, I'm going to share an epic saga of hope, disappointment, action and ultimate victory. I hope you find it as useful to read as it was useful to do…
Agents and editors come to the major writing conferences, and most let you buy some one-on-one face time with them to pitch your project. It's like buying any warm lead for any sales gig — worth the money if you can afford the entry fee. I bought five of them at the Willamette Writers' Conference — three for Friday, one each for Saturday and Sunday.
My first two on Friday went poorly, with the agents not particularly engaged but with nothing useful to say about why. I left the second one discouraged, wondering if my young adult novel was just a bad idea. I went back to my hotel room ready to take a nap, or just chill and watch TV.
I then decided to get my ass back into the conference and talk to people — which is where the major benefit of a conference comes from anyway.
I got in line to buy a coke, and noticed I was standing behind a woman who'd given a talk on turning non-fiction writing into professional coaching. I said hi, only to discover the two of us shared a number of life experiences, interests and values.
An hour of chatting later, I was so energized that I totally nailed my next pitch meeting — and in the interim, my new friend introduced me to somebody who's probably going to get me a speaking gig. And she's going to introduce me to her agent about a nonfiction project I'm starting.
All that out of a chance meeting at a conference.
The moral of this story is simple:
To get the most out of conferences, talk to people. Talk to lots of people. And keep talking to people. Even when you don't want to. 
Kind of hard for us solitary, unsocial writer types — but absolutely vital.
How about y'all? Do you have any stories of conference success, failure or frustration to share? Tell us all in the comments below.