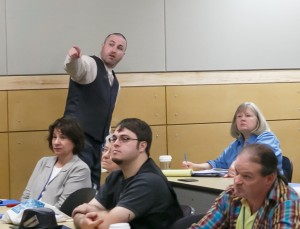 You're going to see a lot of changes on this site over the next few weeks.
I've been writing for a living since 2009 and sharing what I've learned about the industry since 2010. It's been fun, and I've appreciated the comments and compliments I've gotten from everybody who's been a part of this blog over the years.
But here's the thing. Writing is a small part of what I do…and a small niche in which to teach. Much of what I know — and most of what I did before writing — is far more widely applicable. So I'm branching out in this blog to cover life coaching, business coaching and similar fields.
The overwhelming majority of what I'll have to say (and of what I've said so far) can be summed up in the title of this post: above average Joe.

What I mean by that is I'm nothing special. The folks I've been fortunate enough to work with or present to over my life have been smarter, tougher, more talented, more skilled and generally more pleasant than I am. Despite that fact, I've been able to accomplish a solid A-/B+ level of success in most things I've tried.
As a writer, I'm not a New York Times bestseller…but I make a solid living from home doing nothing but writing.
As a martial artist, I never became Bruce Lee or Randy Couture…but I won regional point-sparring tournaments and medals in grappling and self-defense competitions.
As a traveler, I haven't become Rick Steves or Anthony Bourdain…but I've visited a lot of places and am about to begin my second stint of living abroad.
As a business owner, I didn't get rich…but I enriched the lives of my clients and my staff and made enough to pay my bills while doing it.
I've spent my life doing pretty much exactly what I want, when I want to, with the people I would prefer to do it with. If I have a super power, it's an ability to identify those wants and then find the personal, financial and temporal resources to make it happen.
When I coach or speak, one thing I hear a lot is "I wish I could do that" or some variation on that theme. What I'm here to tell you is, if little old slightly above average me can do the stuff I've done…there's no reason you can't do everything on your bucket list.
Over the next few weeks, I'm refocusing my personal offerings and branding to help more writers, parents, businesspeople, teachers and students wrap their heads around that. I'm excited to see what happens.
Thanks for listening. More to follow.