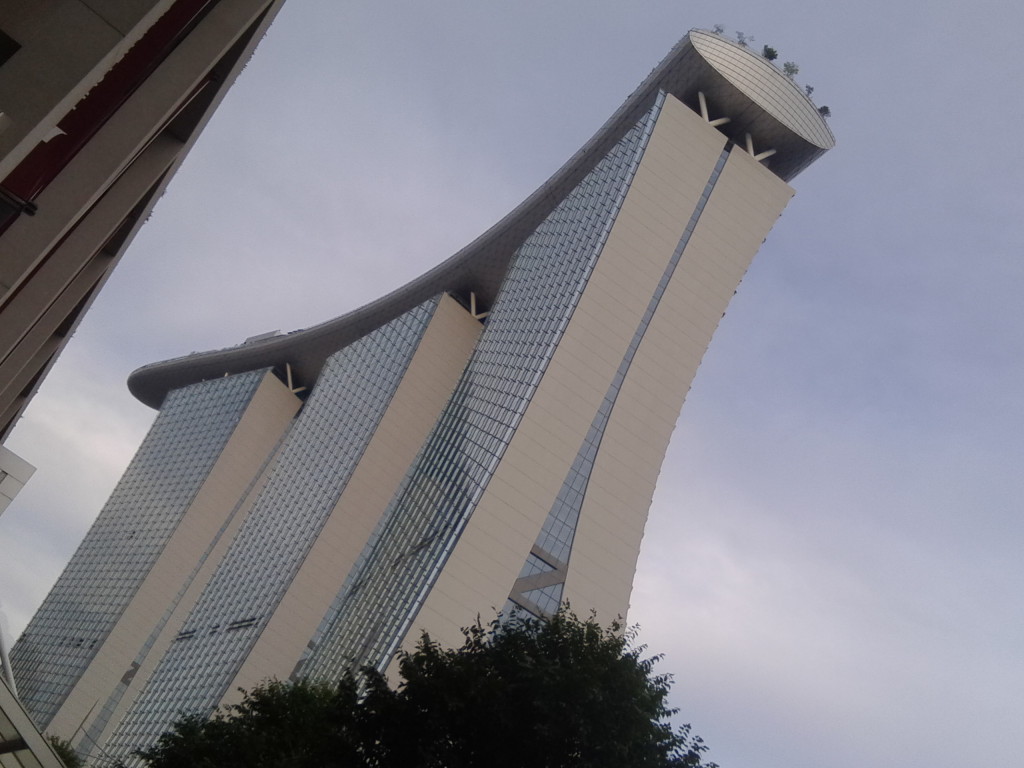 Visas are weird in Malaysia. My status relies on resolving the status of my kids, which takes longer than the 90 days I'm allowed to stay in the country. Solution: spend 72+ hours in another country, then come back in. It resets the clock and I get another 90 days.
Solo road trip to Singapore!
The first thing to know about taking the bus from Melaka to Singapore is that it stops three times before you're actually where you want to be.
It stops once for Malaysia immigration as you exit the country
It stops again for Singapore immigration as you enter the new country
It stops a third time in downtown Singapore, several miles from the point of ingress
Really, the First Thing to know is that the 4-hour bus ride does not include restroom breaks or on-board facilities. Drinking a quart of Gatorade just before boarding leads to an uncomfortable time. I spent an hour seriously considering the engineering facets of improvising a toilet by stuffing some socks into my waterproof toiletries bag. But the fact that you'll leave your bus three times before you're actually in Singapore proper is something every competent traveler should understand before taking the trip.
So there I was, just outside the Singapore immigration station, walking a nexus of roads that looked just enough like the one on my map of downtown Singapore for me to keep walking. I wandered residential neighborhoods full of towering housing blocks, parks with the same prefabbed playgrounds we have in the States and gardens with signs that forbade me from feeding the monkeys.
After an hour, I was (a) certain this wasn't where I needed to be and (b) completely unable to get back to where I'd started. I stopped at a gas station and got friendly, clear directions about how to get to a bus stop, which bus to ride to the MRT (subway), and which MRT train to take into downtown Singapore.
I got off the bus in the center of the business district, in a mall surrounded by bank towers and the kind of talking billboards I still associate with cyberpunk movies from the 1980s like Blade Runner and The Running Man. Walking from there to my Chinatown hotel, I noticed that bustling is the best word to describe Singapore. It's not crowded, but neither is it laid back or mellow. There are people everywhere. Although they were never thick enough to make me slow my walking pace, they were always present, always energetic, always moving.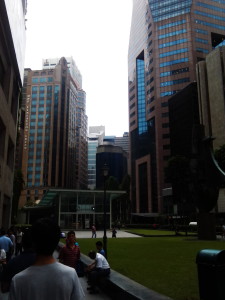 While waiting for a stoplight to change, I was suddenly surrounded by about 30 twenty-somethings all dressed in about five variations of superhero costumes. From their chatter, it appeared to be some kind of team-building exercise combining public humiliation and a scavenger hunt. They spoke (mostly) English, with accents and skin tones and mannerisms that suggested origins from all over the world.
This was the first time (but absolutely not the last) that I was struck by how international Singapore is. By comparison, New York and San Francisco and London and Paris might as well be Prineville, Oregon. In the 20-minute walk from the MRT station to my hotel, I heard more than 10 languages spoken and smelled food from five continents. I passed people in full business suits, traditional dress from all over Asia, and modern casual wear. There was even a Chinese kid sagging.
Chinatown in Singapore is about 9 square blocks of thick markets with a long food court running down the center. It smells like sunblock, fried foods and durian and has a lifetime supply of cheesy Chinesey tourist mementos on display. During the day, it crosses that line from bustling to crowded, with the throng split 50/50 between Asian tourists and European/North American tourists.
My hotel – the Santa Grande – was in the center
of the storm, a renovated Chinese Opera House rising three stories and surrounded on all sides by shops and restaurants. The interior was quiet, cavernous and little bit spooky, painted in deep red with barely insufficient lighting. My room was maybe 6 square meters (a bit over 50 square feet), with the bed framed in by a moon gate and a really great bathroom with massive water pressure and all the scalding water I could stand. The staff was polite and proactive – a welcome change from the more casual customer service attitudes of Malaysia – and they spoke perfect English.
I took a quick nap in the windowless, perfectly dark room, then spent the evening wandering. I cruised the Chinatown markets for some omiyagi to bring home to Bev and the boys. The markets are like an MC Escher drawing: just confusing enough that you almost forget that it's a tessellated pattern and every individual unit is basically the same as all the units around them. Half of the stalls sported the same selection of Singapore-themed t-shirts, magnets and knick knacks. The other half offered higher-end goods in four themes: jewelry, clothing, tea and spices, art.
Behind the shops were restaurants of all stripes. To my (mild) embarrassment my stomach told me I wanted the Irish pub, where I ordered some pilsner and pork ribs.  While having my beer, I spotted a listing in my guidebook for the highest bar in the world and made it the mission of the night to find that bar.
I mean, I didn't come all the way to Singapore to not drink at Altitude.
The walk to the tower was quick – about a mile through open galleries and night bars. I passed the giant Christmas tree in the lobby and found the elevators, only to be told that there was no bar in that building. Turned out I was in the UOB building, when I needed to be in the OUB building. Unlike the UOB building, which was labeled at the top with huge, red signage visible from across the harbor, OUB was not so clearly labeled.
I used my guidebook to try zeroing in, which led to a four-mile walk along the waterfront and through the colonial district. I saw a lot of closed buildings, empty parks and the kind of modern architecture that makes growing Asian cities so interesting. At length, I identified a tall building with some kind of restaurant visible at the top and made a beeline for it.
Also the wrong building.
Outside, I found a rickshaw driver who (a) knew where OUB was and (b) was willing to take me there. If you plan to visit Singapore, I have to say that riding in a rickshaw and feeling the cool evening breeze on your face as you zoom through traffic at the bottom of the canyon of light formed by its tall office towers…well, that's a great way to experience the city.
I also have to say that you should negotiate the price tag first. Dude charged me $50 Singapore dollars (about $30 USD) for the twenty-minute ride. Rookie mistake on my part, and as he cycled away I still couldn't see the damn OUB building. I finally asked a cop and he pointed to Raffles Place, a tall mall/office tower about a block away. I repeated that I wanted the OUB building, to which he responded "They're the same thing, Mate."
There was a long line at the elevator that led to Altitude, complete with bouncers and a bunch of posers waiting their turn. I mean a long line. The kind that reminds me why the only clubbing I like to do involves baby harp seals. But it didn't matter: their dress code said "no shorts" and I hadn't even packed long pants.
It was eleven at night by then, and most of the business district had emptied out into the club areas further afield. I walked through the relatively empty city, for some reason noticing how many fountains there were here in comparison to other cities I'd walked through, found my hotel on my second try, climbed through the moon gate into my bed and slept the sleep of the parent hundreds of miles from his responsibilities.
There is no better sleep than that.