For Part One, go here. You'll find out why I ended up alone in Singapore and what I got up to unsupervised on my first day in country.
I had a simple mission for the morning: find the Raffles hotel and drink a Singapore Sling. The Raffles was a center of colonial life during the British occupation that turned the island from a small backwater to the center for shipping in the region. (We'll forgive that doing this stole that distinction from Melaka, my current home town). It's not only a site of interest to history buffs like myself, but also features in an adventure I'm writing for the Acthung! Cthulhu game.
The trip there was simple. A subway station empties into Chinatown, a block and a half from my hotel. En route, a tout talked me into slurping down some wontons and noodles in spicy hell broth. With a side of iced tea. I also attempted to treat myself with a foot and shoulder massage at one of the dozen or so second-story outfits on the short walk from my hotel to the subway.
I say "attempted to treat myself" because it was the worst massage I've ever received from a professional, and worse than half the ones I got from amateurs.
Here's the thing about massages. A good masseuse pays attention to what's going on in the tissue beneath her fingertips. She find the kinks and releases them. A bad masseuse pays attention only to her own hands, or the social interaction going on nearby, and basically rubs you randomly to no good effect.
A really bad masseuse pays attention to the rote-memorized progress of a "rub down for tourists who won't be back no matter how good a job you do" with no notice at all of if it's working, or even whether she's rubbing a knot or the bone at the top of your shoulder. It also apparently includes amateur attempts at chiropractic neck-cracking.
Not recommended. The foot massage was so bad that my feet hurt worse for the rest of the day. Not that it changed my plans at all. Down into the subway I went.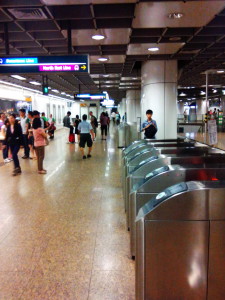 Singapore subways are incredibly clean, although I never saw a single person sweeping, mopping or cleaning up litter while I was down there. Cleaner than Japan, even, and without the eerie silence of Japanese subway crowds.
Of all the places in Singapore, the subways really brought home to me how international and diverse the city is. All the signs were in four languages in three alphabets. Conversations around me were in nine languages I recognized.
Any given train car housed sharp men in business suits, women in traditional Muslim dress and women of the same age in sort-shorts and a tank top. Every style of dress, every age, any nationality had one or more representatives wandering around down there. Made me think of Star Trek.
Up out in the sunlight, I had only a couple of blocks to reach the Raffles, but I walked a quarter mile around and through it before I found the Long Bar, home of the Singapore Sling. The grounds felt colonial-esque. They had the right lines, but had been so often restored and cleaned that they felt more like an amusement park based on Colonial Singapore than a piece of history.
Even so, it was pretty neat. I wandered around, soaking in what I could see but mostly what I imagined.  This whole "take the family to Malaysia" thing is a pretty cool adventure, but the world's pretty small these days. The people who smoked and drank around that fountain in 1938 — they were on an adventure the likes of which modern people can't even have. No daily flight schedules or social media Likes for them. No air conditioning, either.
Still, I think they had the better deal.
I did ultimately find the Long Bar and I did ultimately taste a fruity cocktail that cost more than my hotel room despite having very little actual alcohol in it. I tried three times to kampai! with the Japanese businessmen at the bar to my left, but they either pretended not to hear me or legitimately didn't hear me.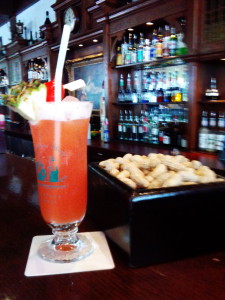 1 shot lemon juice
1 shot dry gin
2 shots cherry brandy
fill with ice and soda water
$40 Singaporean
Home for a nap, then off to the Gardens by the Bay: Singapore's newish public gardens next to the iconic Marina Bay Sands Hotel. I aimed to get there for sunset, so I could observe the park at night, but arrived early to get a look at the Marina Sands. It's that three-building hotel connected at the 57th floor by an observation deck complete with infinity pool. Turns out the hotel has better security than I anticipated, so I wasn't able to get to the pool, and the tiny piece of shadeless observation deck open to the public wasn't worth the price of admission.
So instead, I found the nearest food court "Satay by the Bay." I at meat on sticks and drank Tiger beer while I rested my still-aching feet. Then I walked around the gardens until the long tropical day threatened dusk.
The Gardens by the Bay are themed. There's a Chinese Garden with moon gate and rocks carefully constructed to look like they'd been randomly eroded over centuries.
There's the Indian Garden with statues of gods, a natural garden with shade to rest in, and a Kids Garden with playgrounds and water. There's even the Garden-Full-of-Statue-Frog-Monsters-Marching-Out-Of-the-Water-and-Into-Your Nightmares.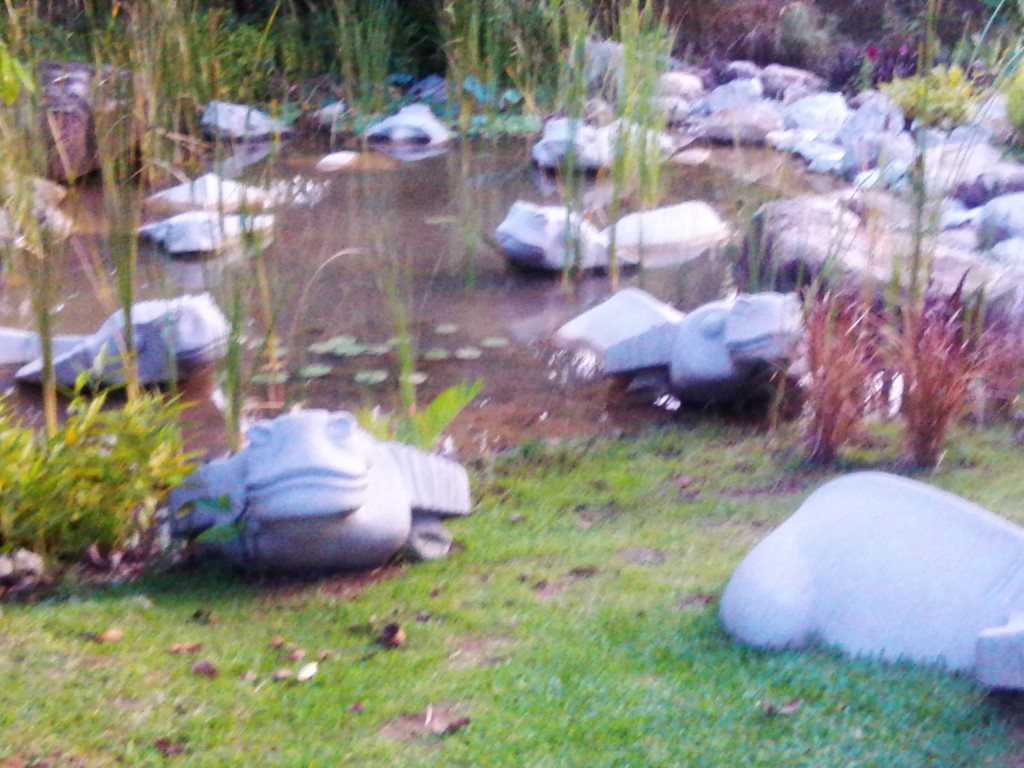 Dusk came when it was good and ready — a bit too soon since I was still freaked out by the frog monsters — and I queued up to walk among the Supertrees.
The Supertrees are this massive engineering project that proves some points about green energy. They provide heat vents from Singapore's compost-burning electrical generators, and the top cones are covered with solar cells that produce enough energy to light them up at night.
They're also five stories tall, and cooler than I'm making them sound like. For a few bucks, I got to ride the elevator up and stroll a catwalk about three stories above the ground. There was a concert going on the opposite side of the harbor, and the sounds of music and cheering washed over me as I wandered along, avoided strollers, took a few pictures and generally grooved on the lights and sights of Singapore's Marina Bay.
When I was finished, I headed home. Although I counted 12 bars and pubs en route, I stopped at only two of them before stumbling into my hotel room and availing myself of ten consecutive hours of the dreamless in my pitch-black, comfortingly tiny hotel room.